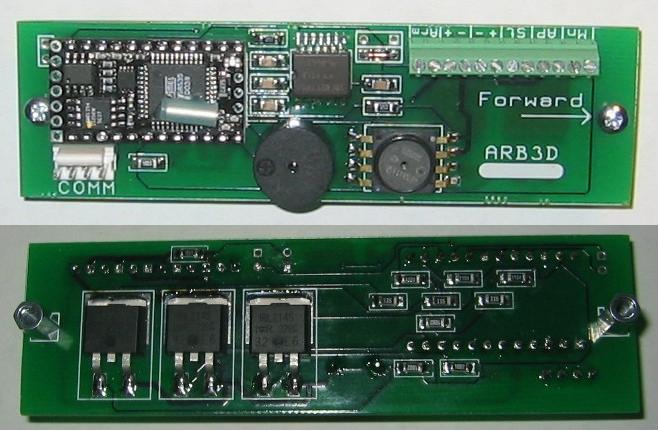 ARB-3D Altimeter
The ARB-3D altimeter is a real-time integrating accelerometer and barometer for computing the absolute values utilizing floating-point mathmatic calculations. The heart of this altimeter uses the BasicX-24 stamp.
Airstart/Staging channel
Apogee Channel
Low Altitude Deployment
10-bit ADC
Single battery low current deployment (0.6 Amps with 9v battery)
Dual battery high current deployment (10 Amps with 9v battery)
Low Deployment altitude 200 ft to 3000 ft
Delay from 0.0 sec to 30.0 sec in 0.1 second increaments
Upgradable firmware
Buzzer or LED status output
>2 g for 0.25 seconds Launch detect
Immune to Mach speed effects
+/- 50 g accelerometer
40k foot MSL
Multiple flight data records
6v-12v Power source
30-35 mA Current draw
1oz. weight without batteries
1.25" x 4.125"
Available in a kit form!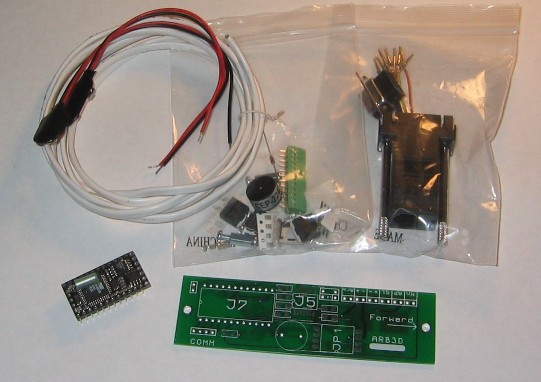 Accelo-Graph
The Accelo-Graph software configures the settings on the ARB-3D and downloads the flight data files. Testing the continuty and pyro channels can be tested as well as polling real-time acceleration and barometric pressure values.
The downloaded flight data can be examined as acceleration, thrust, velocity, and altitude over time. Zoom in on the acceleration and thrust curves for a closer examination. The thrust curve can be exported as an .ENG file to be opened in wRasp simulation program! The Accelo-Graph record files (.rcd) is comma delimited so it could be opened in a spread sheet program without any exporting.
BasicX-24 Chip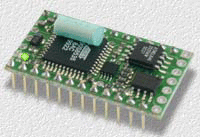 BasicX-24 is the World's most powerful BASIC programmable Microcontroller. It's all-in-one design provides a power-packed module capable of fitting in the smallest of applications. The BX-24s powerful feature set and low cost make it the perfect choice for any application or project.
Multitasking OS
On Chip Time Clock
Built In SPI Interface
Full IEEE floating point math
8x 10-bit ADC
400 bytes of RAM
32kb of EEPROM (both storage and program memory)
65k instructions per second
24 Pin PDIP carrier board
Red and Green LED